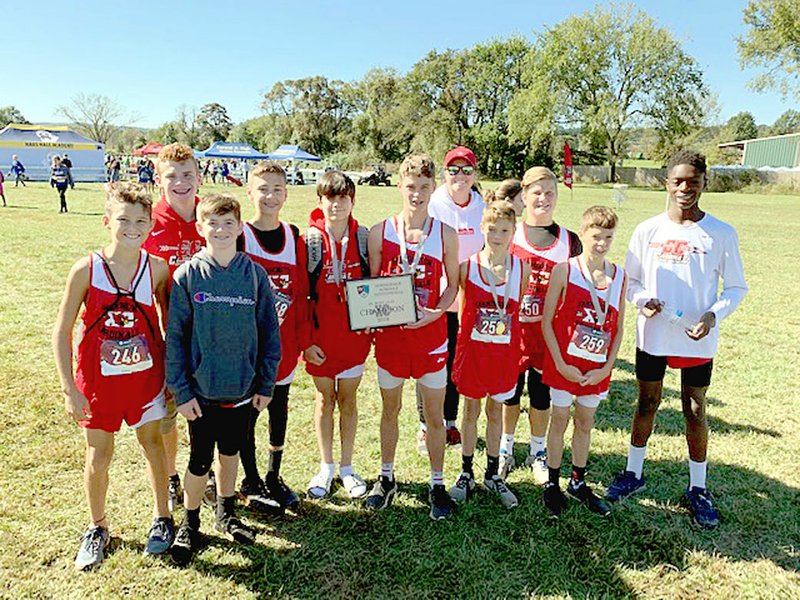 Travis Kegans special to the Enterprise-Leader/Farmington competed at the Springdale Schools Invitational Oct. 12 with the Cardinals lumped into classes 1A-4A and medals given to the top 15 finishers. Farmington won the junior high boys team title with Gavin Spurlock placing second; Cooper Spurlock, ninth; Cody Klotzbuecher, 11th; and Cannon Spurlock, 15th. The Cardinals finished second among boys teams at the 4A-1 District Junior High meet hosted by Prairie Grove on Oct. 29.
PRAIRIE GROVE -- Junior high teams from across the area converged on Prairie Grove to compete at the 4A-1 District cross country meet on Tuesday, Oct.29.
Farmington edged out Berryville by a single point (57 to 58) to win the girls team trophy with Prairie Grove finishing fifth with a team score of 130. Pea Ridge was third with 60 and Harrison fourth with 73 points. Gentry placed sixth among the girls team standings with 142 points.
In boys competiton, Berryville won the meet with a team score of 33. Farmington was second with a 44 score. Pea Ridge placed third with 61 points, followed by Shiloh Christian, fourth, 95; Harrison, fifth, 131; and Huntsville, sixth, 158.
Junior High Girls
Farmington placed three runners in the top 10 with Lady Cardinal Jordyn Paine winning the girls race in 12:58.91. Freshman Gisselle Estrada took second for Berryville in 13:04.59. Those one-two placings would help determine the District girls team champion. Farmington teammates, Gabby McBurnett, a seventh grader, placed sixth with a time of 13:40.71 and freshman Addie Kaiser came in eighth in 13:47.52.
Berryville got strong performances from eighth grader Carly Smith, who placed ninth with a time of 13:57.03. Seventh grader Astralia Amos came in 15th for the Lady Bobcats in 14:23.77 and was scored 15th while seventh grader Bella Knapp placed 17th in 14:32.30 and was scored 15th for Berryville. Berryville seventh grader Tessa Parton ran a 14:51.38 to finish 22nd but was scored 19th.
Farmington countered with eighth grader Justine Davidson running the course in 14:46.06. She finished 20th and was placed 18th. Seventh grader Marylauren Bradley charged her way to 28th and was scored 24th with a time of 15:11.68 for Farmington.
Pea Ridge was third in the girls teams standings with 60 points, followed by Harrison, fourth, 73; Prairie Grove, fith, 130; and Gentry, sixth, 142.
Eighth grader Ava Nall captured third place for Prairie Grove with a time of 13:08.71.
Eighth grader Lilly Davis ran the course in 15:10.13 placing 27th and was scored 23rd.
Freshman Emma Lingle ran a 16:32.57 finishing 47th and was scored 33rd.
Rounding out the team score for Prairie Grove were seventh grader Sarah Martin placing 59th in 17:46.19 and freshman Reany White in 17:59.58. The girls were scored 35th and 36th.
Junior High Boys
Pea Ridge freshman Grandon Grant won the race by posting a time of 11:26.45 with Farmington freshman Gavin Spurlock a scant second behind placing second in 11:27.80.
Berryville won the boys team title with a team score of 33. Bobcats occupied the next three places with seventh grader Nestor Perez, third in 11:45.74; seventh grader Malachi Houghton, fourth in 11:46.51; and freshman Trenton Hughes, fifth in 11:55.69. Two more Bobcats cracked the top 15. Freshman Cole Price placed 11th and was scored 10th with a time of 12:23.19 while classmate Dawson Williams was bumped up from 12th to 11th by running a time of 12:27.10.
Farmington accumulated a score of 44 to bring home the runner-up title. Freshman Cody Klotzbuecher ran a 12:10.13 to place eighth and was bumped to seventh with seventh grader Cooper Spurlock finishing in 12:13.31 for ninth. Spurlock was scored eighth.
Seventh grader Avery Lynch went from 13th to 12th with a time of 12:27.81, while No. 15 Cannon Spurlock, a seventh grader, was scored at 14th with a time of 12:29.76.
Prairie Grove had only three runners entered in the boys race and did not qualify for a team score. Eighth grader Charlie Nunn finished the course in 12:42.47 in 19th place with freshman William Lanier taking 28th in 13:12.13 and eighth grader Braden Hudgens coming in 71st with a time of 16:03.54.
Sports on 11/06/2019
Print Headline: Junior High Girls Win District Cross Country Trophy
Sponsor Content
Comments