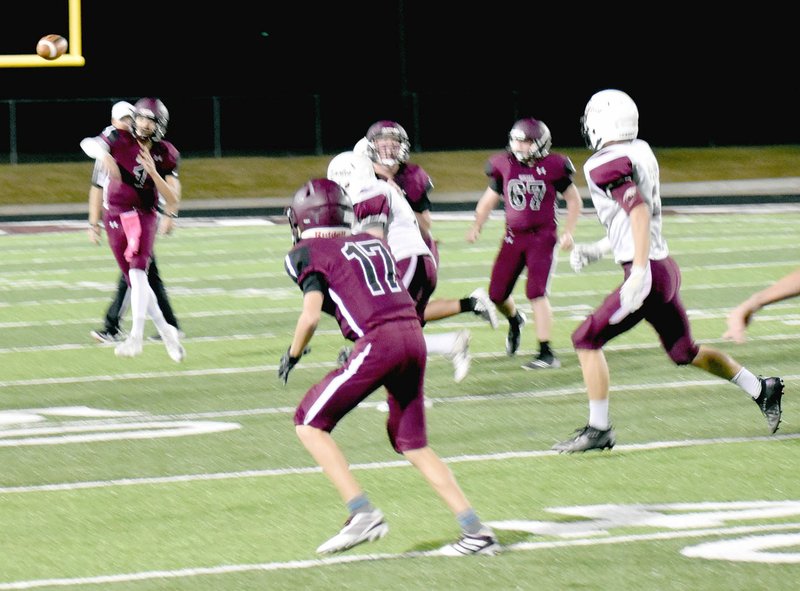 MARK HUMPHREY ENTERPRISE-LEADER Lincoln eighth grader Drew Moore tries to hit classmate Jace Birkes, playing receiver, during a Thursday, Oct. 17, 38-27, victory by the junior Wolves over Huntsville at Wolfpack Stadium.
LINCOLN -- The junior Wolves got on an offensive roll coming out on top, 38-27, in a shootout with Huntsville on Thursday, Oct. 17, at Wolfpack Stadium.
"Our entire team played really well," said Lincoln head junior high coach Beau Collins. "Our offensive line really took care of their jobs blocking. That gives us time to throw. Jace Birkes had three touchdown catches and over 200 yards receiving, and our two runningbacks, Nick Martinez and Grant King each scored."
Lincoln led 6-0 on Nick Martinez' touchdown run then gave up a 68-yard passing touchdown by Huntsville quarterback Amos Mayes to wide receiver Phillip Litterell. Mayes rolled out to his right, turning back as he neared the sideline and throwing deep to Litterell, who caught the ball in stride at Lincoln's 45. He outran the secondary to the end zone to tie the game at 6-6.
Lincoln eighth grade starting quarterback Drew Moore passed to receiver Jace Birkes for a pair of touchdowns and then found Harrison Coker-Gauge on a 2-point conversion throw to give the junior Wolves a 22-6 lead midway through the second quarter.
Lincoln allowed a long kickoff return then compounded its defensive field position with a personal foul penalty giving Huntsville a first down at the junior Wolves' 21. That led to Mayes' 17-yard touchdown toss to Litterell, who came open at the two where Mayes threw a pinpoint pass. Litterell stepped into the end zone before the junior Wolves could lay a hand on him. The pair of Eagles hooked up on a 2-point conversion pass drawing Huntsville within 22-14 with 3:55 remaining in the first half.
Lincoln took advantage of the ensuing kickoff going out-of-bounds. Starting from his own 35, Moore directed an 8-play, 40-yard drive before a fumble that wasn't his fault halted the foray into Eagle territory. Moore completed a pass, but the receiver coughed up the football and Kendal Schrock recovered for the Eagles.
Huntsville hurt themselves with two false start penalties in the next five plays and a negative yardage play when Eugene Hill dropped a receiver for minus three yards. Huntsville squandered its hopes of tying the game and punted.
Lincoln took an eight-point lead, 22-14, into the halftime break.
In the second half Lincoln got touchdowns from Grant King on the ground and a third Moore to Birkes pass to offset a pair of scores by the Eagles.
Huntsville finished with 188 passing yards by Mayes, who racked up a 78.6 completion percentage with 3 touchdowns and no interceptions. Litterell caught 4 passes for 101 yards and 2 touchdowns while Brandon Rushano added 3 catches for 41 yards and a touchdown.
The junior Wolves converted 5-of-7 third downs while limiting Huntsville to 2-of-6.
Collins pointed out the defense played better than the scoreboard indicated. Lincoln had 2 turnovers including an interception made by Huntsville's Litterell. A telltale statistic was Huntsville only gaining 29 yards rushing.
"Our defense played really well. Nick Martinez, who plays middle linebacker, led the team in tackles with 12 total," Collins said. "We had two fourth down stops."
Sports on 11/06/2019
Print Headline: Junior Wolves Roll
Sponsor Content
Comments