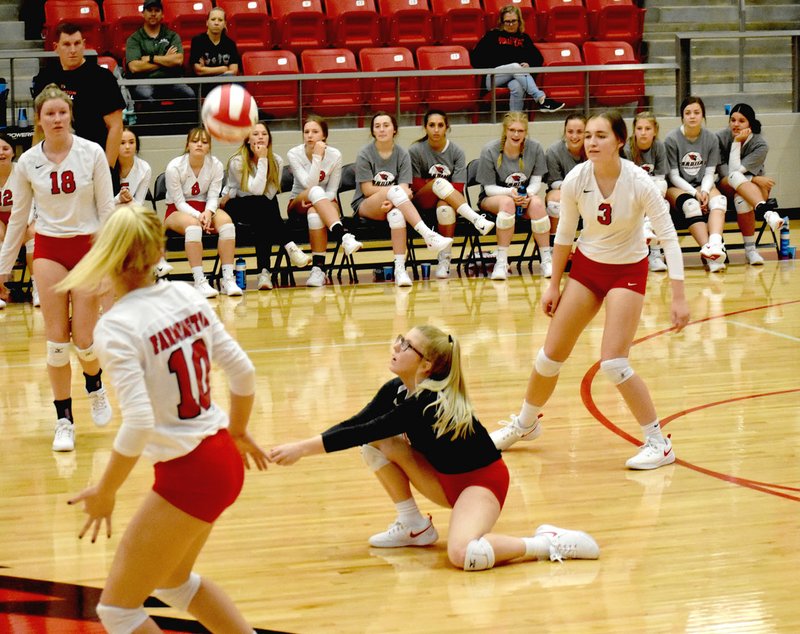 MARK HUMPHREY ENTERPRISE-LEADER Farmington senior Paige Anderson gets a back-row dig to set up the offense while her teammates: Brittany Pittman (left), Kelly Stout, and Morgan Brye, stand ready. Farmington swept Gravette, 25-14, 25-18, 25-18, on Thursday at Cardinal Arena to maintain a perfect 10-0 conference mark. The Lady Cardinals were 17-3-1 overall coming into the last week of regular season play.
FARMINGTON -- The Lady Cardinals (21-5-1) advanced to the State 4A volleyball quarterfinals by a 25-15, 27-25, 25-12 sweep of Arkadelphia (16-11-1) on Tuesday, Oct. 29.
Farmington entered state seeded No. 3 out of the 4A Northwest and was pitted against the Lady Badgers, seeded No. 2 from the 4A West.
Farmington's first-round victory put the Lady Cardinals into the quarterfinal round against tournament host, Morrilton, which defeated No. 4 Northeast Southside Batesville in 5 sets (25-14, 25-11, 23-25, 24-26, 15-4). Morrilton came into the tournament with the Central's No. 1 seed.
Teams representing the 4A Northwest did well in the first-round. No. 1 Northwest Shiloh Christian had little trouble with West No. 4 Malvern in a 25-20, 25-8, 25-6 sweep. Shiloh Christian faced Northeast No. 2 Batesville, a 25-18, 25-19, 25-15 winner over No. 4 Central Pulaski Robinson in Wednesday's quarterfinals.
No. 1 Northeast Valley View made quick work of No. 4 Central Lonoke overpowering the Lady Jackrabbits by scores of 25-4, 25-8, and 25-10 in the first-round. If No. 2 Northwest Berryville could get by No. 3 West Magnolia, the Lady Bobcats would be the first Northwest team to get a shot at Valley View, and that's what happened. Berryville defeated Magnolia, 25-19, 25-19, 25-13, and advanced, meaning 3-of-4 Northwest teams went beyond the first-round.
The only team from the local region not to advance was No. 4 Northwest Pea Ridge. The Lady Blackhawks made an upset bid against West No. 1 Mena winning the first set, 25-19, before dropping three straight sets, 25-16, 25-14, 25-16.
No. 3 Northeast Brookland knocked off No. 2 Central Pulaski Academy, 25-12, 25-11, 25-21, setting up a quarterfinal with Brookland playing Mena.
FARMINGTON'S RISE TO VOLLEYBALL PROMINENCE
Year^Overall^Conf^League^District^Place^State^Place^Coach
2013^7-10^6-5^4A-1^0-1^Lost State 4A first-round^Marshall Ward
2014^13-9^7-7^5A West^0-0^No Conference tourney^1-1^Lost State 5A quarterfinal^Marshall Ward
2015^7-11-1^4-8^5A West^0-0^Did not qualify for postseason^Marshall Ward
2016^12-11-2^4-8^5A West^1-1^Fourth^0-1^Lost State 5A first-round^Marshall Ward
2017^5-15-1^3-9^4A-1^5A West^Did not qualify for state^Marshall Ward
2018^11-6-1^8-4^4A-1^0-2^Fourth^0-1^Lost State 4A first-round^Mike Howard
2019^21-5-1^12-0^4A-1^1-1^Third^1-1^Lost State 4A Quarterfinal^Mike Howard
Sports on 11/06/2019
Print Headline: Unbadgered Lady Cardinals
Sponsor Content
Comments