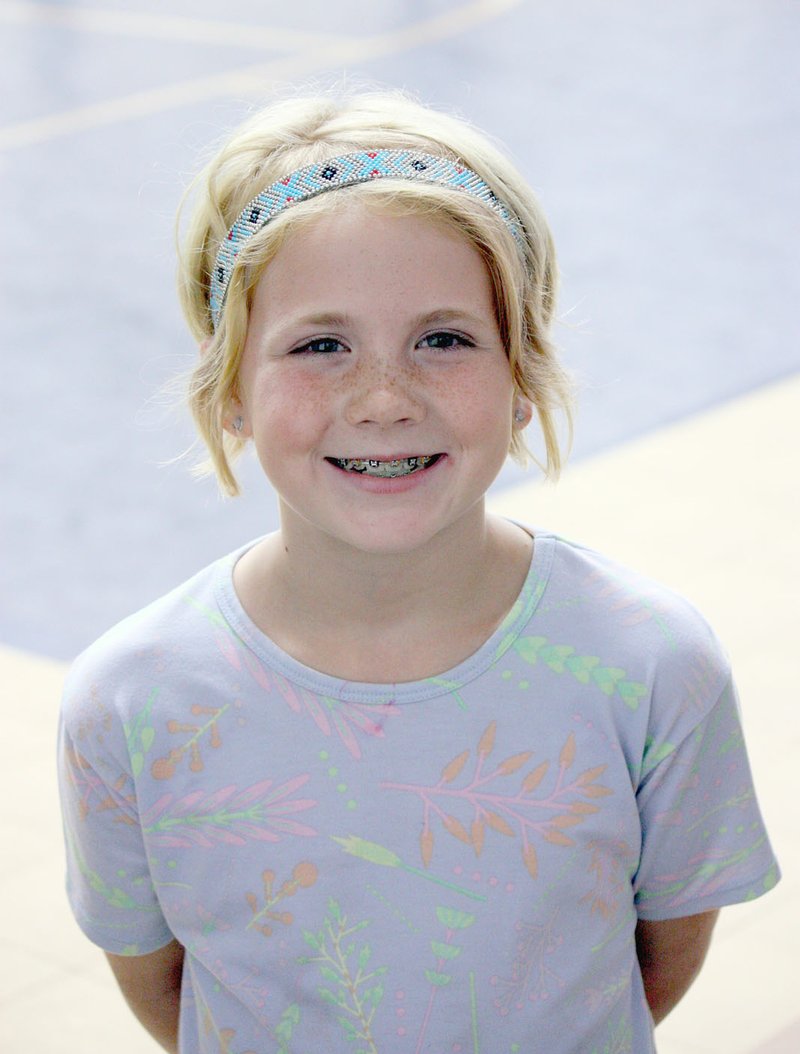 MARK HUMPHREY ENTERPRISE-LEADER Jolie Vaughn, 9, of West Fork, sang the Star Spangled Banner at a West Fork volleyball match against Lincoln Tuesday, Sept. 24, 2019, and fired up the home team as the Lady Tigers swept Lincoln (25-8, 25-15, 25-9).
WEST FORK -- Nine-year-old Jolie Vaughn never sang the Star Spangled Banner at a West Fork volleyball match before her Tuesday, Sept. 24, 2019, stirring rendition which fired up the home team.
The Lady Tigers got excited and swept Lincoln in three straight sets (25-8, 25-15, 25-9) and now West Fork coach Lisa Kirk wants Jolie back.
"Yeah, it's hard to follow that if you're not going to come out with some energy. She did a great job singing and I was proud of her and my girls came out and played well," Kirk said. "That was her first time doing that and we'll definitely have her back and she's going to do some pee wee football games as well."
The West Fork girls channeled the energy they picked up from Jolie's performance and took care of business in short order -- winning the first set in runaway fashion, 25-8, despite arriving home late from a Monday night road match at Green Forest which turned into a tough five-set loss (13-25, 25-13, 12-25, 25-21, 11-15).
"We played really well there, but took one on the chin and so the girls were ready to come out and fight and get a win tonight," Kirk said.
West Fork made some errors during the second set, but still won handily, 25-15; and never let Lincoln get on track breezing through the third set, 25-9.
"Lincoln has got some pretty good servers so if you don't get over there and make some good passes they can score some points off that," Kirk said. "We had a little trouble at the beginning of the second set, and then got everything back in line."
Robin Kirk is back in the lineup for Lincoln coming off an injury and made her presence known at times.
"It's definitely nice to have her back. With a tall body we were more aggressive in the front," said Lincoln coach Heath Slammons, who noted the Lady Wolves are still missing junior Keara Wallace.
"It's tough to find someone to take over the leadership role," Slammons said. "We're a young team with a mix of seniors in there. Basically, we're still young. As the season progresses we'll see a little bit more with what the team presents to us."
Lincoln lost 25-10, 25-18, 25-23 at Mansfield Thursday and is now 0-9 for the season.
Sports on 10/09/2019
Print Headline: West Fork Draws Energy From Young Vocalist
Sponsor Content
Comments