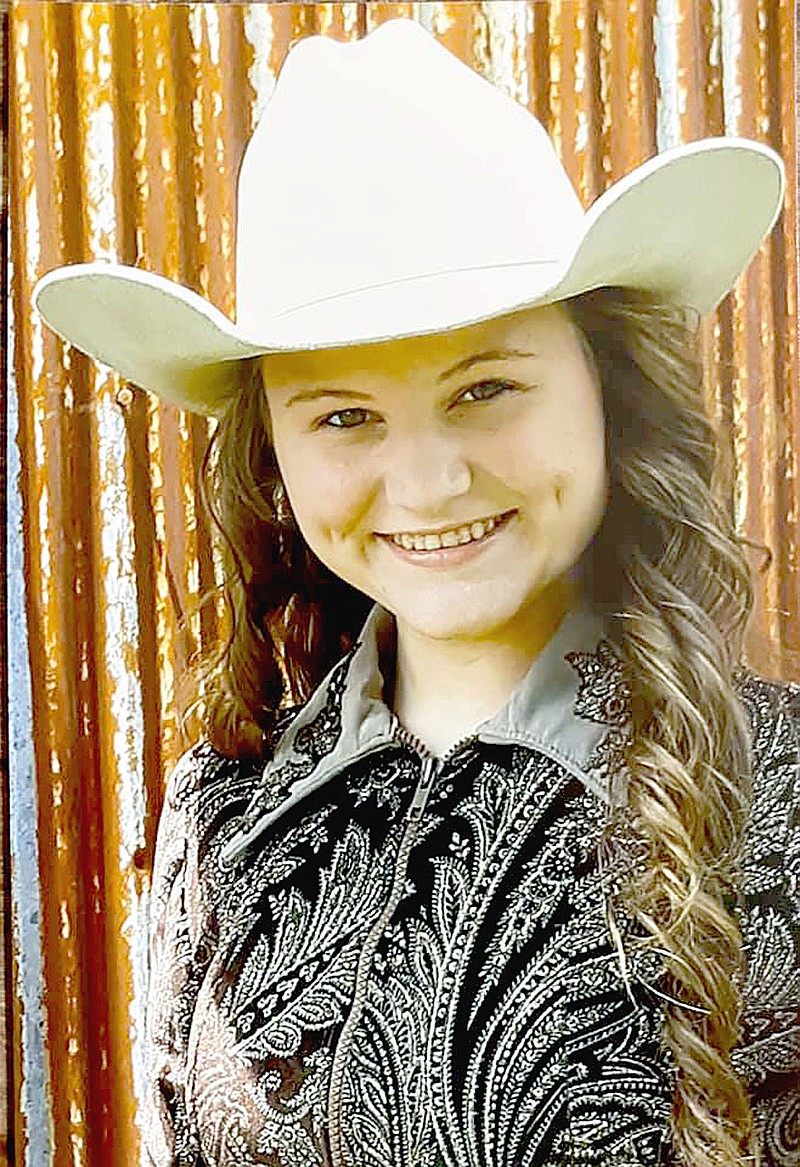 Submitted photo/Sammie Jo Moore, 17, daughter of Clayton and Sylvia Moore, of Rose, Okla., is a candidate for Miss Lincoln Riding Club during the 67th annual Lincoln Rodeo this week.
LINCOLN -- Beauty in the saddle might be an appropriate theme for 2020 Lincoln Riding Club Rodeo queen contestant Sammie Jo Moore, 17, who aspires to become a licensed cosmetologist.
Sammie Jo is the daughter of Clayton and Sylvia Moore, of Rose, Okla., who will be a senior at Oaks High School this fall. Sammie Jo's horse is named Stingrey and is a 2003 cutting breed horse. He has been in numerous rodeo queen contests with Sammie Jo in the saddle. A fun fact is Sammie Jo and Stingrey are the same age.
Sammie Jo started riding in 2009 at the Locust Grove, Okla. 6 & under ride along. Sammie Jo has been involved in numerous play days, rodeo queen pageants, and 4-H horse shows.
Among her list of accomplishments: Sammie Jo won the 2012 Ozarks Junior Rodeo Association (OJRA) barrel racing championship, represented the Cowboys Winter Rodeo Association (CWRA) as Princess for 2014-2015, won a 3D barrel saddle and CWRA 2D barrel saddle at Marchant Hills Arena in Springdale.
In four out of the past six years (2014, 2015, 2017, 2019) she won the 4H horse show All-Around in western pleasure, reining, and trail.
Sammie Jo has held numerous titles including: 2009 Little Miss Locust Grove, Okla., 2010 Colcord, Okla. Princess and Miss Congeniality, 2011 Siloam Springs Sweetheart, 2014-2015 CRWA Princess, 2013 first runner-up LRC Princess and 2015 first runner-up LRC Junior Queen, and 2016 Lincoln Riding Club Junior Queen.
Sammie Jo is very busy besides horses. She plays softball and received many awards for that sport. She also shows chickens and rabbits at the county fair and the Tulsa State Fair.
Sammie Jo excels academically as Valedictorian in ninth and 11th grades at Oaks, Okla. She also won numerous awards in basketball. She won queen at her school and loves to help children learn about whom she terms as the focal-point of her faith, "her Lord."
Rodeo has been a huge part of Sammie Jo's life from the age of four -- from running peewee barrels to competing in royalty contests.
"I have always had a passion for little children and babies," Sammie Jo said. "I would love to teach them about horses, showing, rodeos, and pageants. Having a positive attitude is the main key and they can do anything if they work hard and put their heart and soul into it."
Sponsor Content
Comments