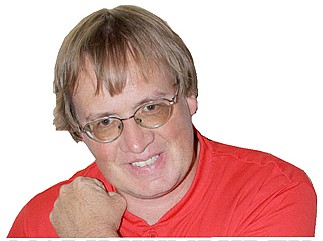 When getting involved in athletic competition whether through coaching or administrative oversight, it's a given one's team won't come out on top every time.
Anyone can get exuberant and celebrate a victory, but the real key to success may be in how well those in leadership learn to lose gracefully, and newly-hired Farmington athletic director Beau Thompson, the school's boys basketball coach for the past 15 years, figured that out a long time ago.
He describes his wife, Paige, daughter of Gary Blair, Texas A&M women's basketball coach, as the perfect coach's wife, who will continue to be the team mom for at least another couple of years with Thompson's son, Logan, on the Cardinal roster. Paige will be heavily-involved in that side of it even though Thompson stepped out of coaching to become athletic director.
"Obviously, she had been trained very well with her father, Gary," Thompson said. "She's stressed more about this job [as head boys basketball coach] than I have. She stresses more about games usually than I do. I think the losses hurt her worse than they do me. She's my rock. I became a better man the day I met her and she makes me a better person daily."
Farmington fans are aware Thompson can manage the Xs and Os. His basketball teams generally remained competitive, even when going toe-to-toe against stalwart talent in a blended 6A/5A conference for two seasons (2016-2017 and 2017-2018) that regularly pitted the Cardinals, now a Class 4A team, up against the likes of Greenwood, Russellville, and Siloam Springs -- not to mention two seasons prior (2014-2015 and 2015-2016) when the 5A West didn't hold a postseason conference tournament and the only way to qualify for state was to finish in the top four among regular season standings.
While covering Thompson's basketball teams over the past decade, another trait observed that the hiring committee likely took into consideration is the fact that he doesn't blow his own horn.
Thompson prepared himself to take a leap from the coaching ranks into athletic administration by obtaining a Master's degree in Educational Leadership and Administration from Arkansas State in 2011. He went back to school studying Superintendency and Educational System Administration at Texas A&M-Texarkana from 2014-2015.
Thompson's decision to leave coaching involved some heartfelt conversations with his son, Logan, a rising junior working his way back from a torn ACL that forced him to miss virtually all of the conference season.
"I really enjoyed coaching my son and he's a breeze to coach," Thompson said. "With him getting hurt last year it did take a little wind out of my sails and made me kind of open my eyes and I went from really wanting to coach him to really just wanting to see him put a uniform back on and get up and down the floor. I just want to see him get healthy and see our kids play."
MARK HUMPHREY IS A SPORTS WRITER FOR THE ENTERPRISE-LEADER.
Sponsor Content
Comments