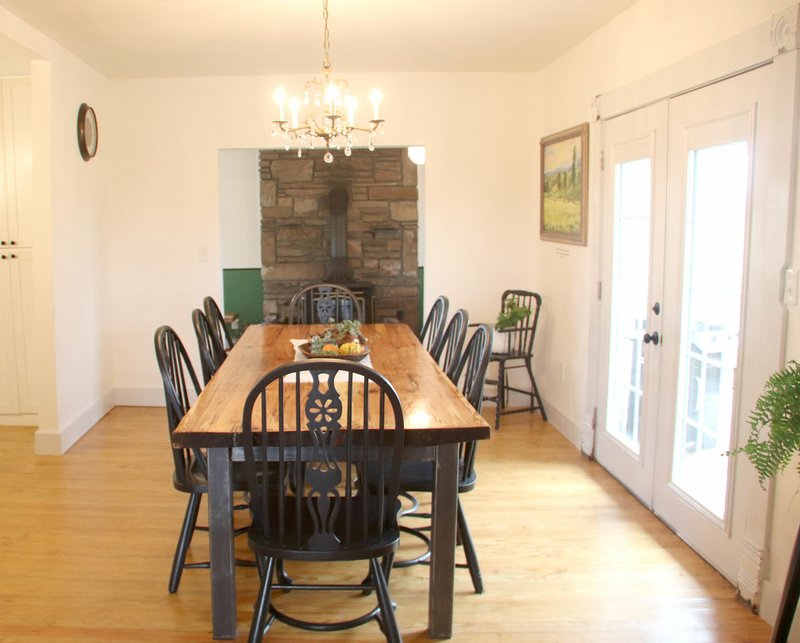 LYNN KUTTER ENTERPRISE-LEADER The dining room table for Farmhouse on the Hill is made from a pecan tree that fell on the property. The French doors lead to an outside patio with a firepit and a place for guests to gather.
LINCOLN -- An old farmhouse that at one time was used to raise chickens has been turned into a charming bed-and-breakfast inn with modern amenities and a welcoming decor.
Farmhouse on the Hill is located at 13992 Lincoln Canehill Road near historic Cane Hill and is a 134-year-old house built in 1885 by James Ross.
Farmhouse on the Hill
13992 Lincoln Caehill Road
Lincoln, Ark. 72744
Carl and Wanda Reed Biggs of Cane Hill bought the structure about 2 1/2 years ago, and the couple, along with their grown children and spouses, began a major renovation project to turn it into a bed and breakfast for others to enjoy.
Wanda Biggs said she believes the house has had several uses over the years. A well-known preacher in Cane Hill owned the house at one point. She believes it also has been used as a rental house.
She knows chickens lived in the house at one time because there's evidence of scratch and pecking marks upstairs and downstairs in the house.
She and her husband live up the hill and own a cattle farm near Cane Hill. It made sense, she said, to purchase the house adjacent to their land.
Biggs said she's had an interest in renovating an old house and before she bought the old two-story structure, had thought about opening up a bed and breakfast.
"This is what came of that," Biggs said.
The project to renovate and remodel an historic house that basically was falling down was not an easy one for Biggs and her family. However, all family members, daughter Caylan Hudgens and husband Matthew, and son Jared Biggs and wife, Jessica, have had a part in making her vision become a reality.
"We prayed over it a lot. There were quite a few tears," Wanda Biggs said.
To bring the house back, work included a new foundation in places and reinforcing the foundation in other places. Insulation was installed throughout the house, wiring replaced and plumbing installed in new areas. Renovation also included new siding on the outside of the house.
Demolition revealed problems to correct but also nice surprises, Caylan Hudgens said. They found unexposed wood plank walls and brick that now is open for visitors to see. They uncovered a Bible belonging to Ruby Reed, a member of the Reed family, some of the original people who came to Cane Hill in 1827.
Farmhouse on the Hill also has several historical features. The house has original windows that once were used in the historical Cane Hill Presbyterian Church before stained glass windows were installed in the church. Original pine floors upstairs have been sanded and varnished leaving an appearance of aged wood. The house has one original light fixture and the others came from an antique store.
Biggs said the original house was not fancy. The people living in it were modest people.
Hudgens said the most fun part of the project was making the farmhouse more livable for its guests.
The bed and breakfast sleeps 11 people. It has 2,400 square feet, with four bedrooms, 2 1/2 baths, a full kitchen, dining room, den and an outside patio. The house has three king-sized beds, one queen and three single beds. (The modern couches in the den turn into two single beds).
The kitchen and bathrooms have modern amenities and antique looks with a claw-foot bathtub and a walk-in shower.
The house has a wood stove, wi-fi and TVs in all the rooms, all surrounded by quiet and peaceful pasture land on the outside.
"The decor for the Farmhouse is either old or modern," Hudgens said.
Her mother used items out of her own home to decorate and furnish the bed and breakfast or items donated by family and friends. The kitchen china is Havalin, a set that is 150 years old.
The all-wood dining room table seats at least eight people and is made from a pecan tree that fell on the property about four years ago.
Hudgens said her father cut the tree into slabs that ended up being the perfect size for the table.
The bed and breakfast opened for guests in July through Airbnb, and the two women have been surprised at how many times it's been booked.
It's been used for family reunions, wedding parties, bridal outings, for brunches and for motorcycle groups. One future groom booked the house as a getaway weekend for the bridal party.
The family only requires a minimum one-night stay and Hudgens said she believes that is one reason it's been popular. They've had guests traveling through this area who will stop for the night and then continue on their trip the next day.
The family has enjoyed reading comments left in a guest sign-in book and also reading comments left on their Airbnb site.
Some of the comments have included, "The beautiful countryside provides a peaceful setting for a relaxing stay (yet only a few miles from Fayetteville). The restored farmhouse gives you a feel of touches of the past with modern conveniences. We will definitely be back! Highly recommend!"
Another person left this message about their group trip: "This stay was absolutely amazing. Could not have imagined anything better for a wedding party getaway. The breakfast in the morning was fantastic. All 8 of our guests were 100% comfortable and enjoyed their stay as well. Nothing but Compliments and Awe from all of them."
General News on 01/13/2020
Print Headline: Historic Farm House Gets New Life
Sponsor Content
Comments