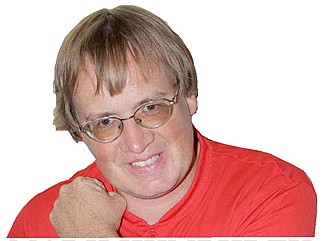 There are two guys from Farmington, who if they were born in another place and culture, could fit right in with the Teasing Clan of the Crow Indians.
Farmington football fans listening to their witty dialogue for the last few seasons enjoyed Randy Osnes providing color commentary alongside Jeff Oxford's play-by-play on the FarmCards Live football weekly webcasts. I need somebody to talk Crow to here in NWA so I'm about ready to adopt them into my Teasing Clan.
The Teasing Clan functions to instill a sense of discipline as part of Native American culture unique to the Crow, through joking or teasing, which is meant to keep an individual humble. Anyone feeling big-headed need only spend about half-an-hour with their teasing cousins, who through the nature of their kinship are permitted to say anything they want or feel necessary to bring egos in line.
All it would take is to apply a little war paint, dye their hair dark, add some feathers, and get a Star Trek transporter, then lock onto Osnes and Oxford, re-scramble their molecules if it were possible to use Science Fiction technology, and beam them from Northwest Arkansas to South-Central Montana while leaving their personalities intact.
The two have been friends for many years, and went to school together at Farmington. Their close rapport comes across as they feed off each other while announcing the games.
"We have a good time," Osnes said. "Now, Ox is the guy, he's the broadcaster. I'm just the one who gets to go in there and hang out with him."
Each brings a certain level of expertise and intimate familiarity with Farmington's athletic program along with vast knowledge of not only local sports history, but going beyond that retaining memories of what's transpired across the state in the realm of sports for at least the last quarter of a century.
It's the kind of institutional memory Farmington loses as a matter of attrition with Osnes set to join the list of former Cardinal staff including athletic director Brad Blew and former superintendent Bryan Law, who both left in 2020. Osnes recently announced he intends to leave the Cardinal coaching ranks at the end of school year 2020-2021.
Certain opponents like Greenbrier might get razzed a little bit, but there will be a reason, in Greenbrier's case relating to the fact that during Farmington first season as a member of the 5A West in football -- the Panthers, playing on their home field, inexplicably were able to run three plays from scrimmage including one in which their quarterback got sacked by Farmington's defense in the last eight seconds of the first half. The clock never hit zero until Greenbrier scored.
Yet, regardless of their unabashed hometown loyalties to Farmington, both Osnes and Oxford interject objectivity into their announcing. When an opponent makes an outstanding play that gets recognized. Neither do they ignore or disregard mistakes made by the Cardinals during the course of a game.
All that adds up to a top notch webcast during football season. Oxford also calls Farmington basketball games and Osnes said, "He [Oxford] understands basketball as well as any person I've ever been around."
Osnes utilizes his years of coaching football having led Farmington's junior high program for 15 seasons as head junior high coach before leaving the program following the 2010 season to give viewers insights into what coaches are trying to achieve through their players on the field.
"I thoroughly enjoy the chess match and the schemes and the plan A's and plan B's that go along with football," Osnes said. "To me, it's the greatest chess game you could ever play where there's 22 situations [11 players on each team] that could happen any time."
Osnes points out the broadcast team features a host of people behind the scenes making things happen including district technology coordinator Jarod Morrison, who wears many hats and occasionally chimes in during the webcasts.
"Jarod Morrison is up there every once in awhile doing double-duty, doing triple-duty or doing quadruple-duty, whatever he's got going on these days," Osnes said.
Journalism teacher Brian Dean oversees Farmington students, who set up the equipment and take care of the technical logistics for each webcast. Osnes appreciates the support crew.
"I'm just the lucky one that gets to go up there and talk football and talk about the situations and hopefully make it entertaining or more enjoyable as far as the strategy side of things and what's going to happen," Osnes said.
Getting into a banter with Oxford equals a losing proposition for almost anybody else, yet Osnes holds his own.
"Football's a great sport and Ox and I thoroughly enjoy calling the game,"Osnes said. "Now, there's no better play-by-play in this area than Jeff Oxford that I've heard. He makes it entertaining and there's nobody any more quick-witted than Jeff Oxford. You could try, if you want to try, but he's going to tear you up; and Ox just does a tremendous job."
If I start teaching them Crow, we'll probably get all kinds of crazy mixed language puns like taking the Crow word for "and" which is pronounced "duk," and injecting it into a sentence using English nouns and Crow verbs with an explanation that any noun ending in a vowel or "L" sound in Crow gets an "sh" added to the end of it.
Donald duk Kamalash duk. Kootasaak, which translates into English as "Donald and Kamala, it is not so or No way!"
Welcome to the Teasing Clan.
MARK HUMPHREY GREW UP AMONG A VAST EXTENDED FAMILY AMONG THE CROW INDIANS. HE IS A MEMBER OF A FEDERALLY-RECOGNIZED TRIBE, AND A SPORTS WRITER FOR THE ENTERPRISE-LEADER.
Sponsor Content
Comments